What Should You Check When Your Vehicleís Stored Inside a Portable Garage?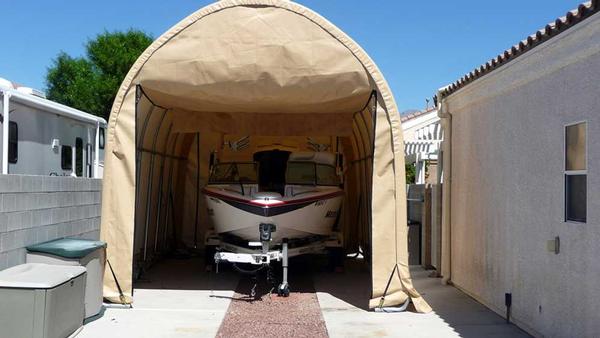 Portable garages make great structures for covering cars, boats, motorcycles, RVs, and campers long term. Yet, simply putting your vehicle in storage for several months at a time is never a good idea. Rather, make it a habit to check your vehicle and look for the following signs:
1. Maintenance
Even when a vehicle sits for several months at a time, maintenance is needed in order for it to be up and running later on. Make sure to:
Check and change oils and filters every three months
Fill the tank with fuel to avoid condensation build up.
Check coolant levels.
Examine the tire pressure, especially if the vehicleís been in storage during colder months.
Check the brake lines for any rusting.
Wash, polish, and wax the outside.
Consider adding a continual charger to the battery.
2. Check for Any Animals
Many donít realize that animals may make your vehicle their home, particularly when itís stationary for several months at a time. When this occurs, animals build nests inside your car, boat, or RV, may gnaw away at parts, and could even chew through wires.
As a result, itís best to examine not just the shelter for any animals living inside but to also give your vehicle a thorough interior check. Should you spot one, make plans to have it removed, and to schedule maintenance on your vehicle.
3. Check Ventilation
While you certainly donít want animals coming in, you do want your portable garage to be ventilated enough to allow moisture to circulate and escape.
When your vehicleís in storage, check the shelterís interior occasionally for signs of moisture buildup, including mold, mildew, rust, and dry rot. Yet, even if you donít notice these, seeing condensationís enough of a reason to install a ventilation kit.
When you need to shelter a car, boat, or RV, Portable Garage Depot offers a solution. Shop our store today for the shelter best suiting your needs.