How to Repair a Canopy Top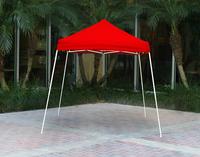 Fixing a tear in a portable canopy might seem like a daunting task. It does not have to be that way.
Fixing a torn canopy can be done. It just takes a little elbow grease and some know-how.
Call Us Toll Free @ 475.308.8477
The first thing you need to do is clean the canopy. Get an oil-free cleaning solution to clean the entire surface of the canopy. Then you need to allow the surface to dry completely, before beginning any repair work.
The next thing you will need is canopy tape. This tape can be found at most hardware or home improvement stores.
Remember the purpose of the portable canopy. It's to protect things from the elements. This is way any repair job must be done correctly. If it's not, the purpose and basic reason for having the canopy becomes pointless. This means choosing the right tape and not just settling for whatever tape you can find. Make sure to use canopy tape. When using the tape, read and follow the directions that come with the tape.
Place a piece of repair tape over the top side of the repair. Press down and remove any bubbles from the tape so that the tape is air tight.
It's understandable if you decide the best course of action is to skip the repairs and purchase a replacement canopy. Canopy tops are replaceable. Portable Garage Depot can help. Portable Garage Depot has a full line of canopies and canopy accessories, including durable replacement tops, enclosure kits and anchors.