Buying a Portable Animal Shelter
Call Us Toll Free @ 475.308.8477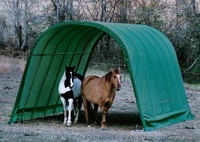 When shopping for an animal shelter, consider a portable shelter. Portable carports and shelters have a great many uses.
You want to choose a portable animal shelter that will protect your livestock from the elements, including heavy rain and strong sun. It's the reliability that will help make your decision easier.
This is why Portable Garage Depot offers a full line of run-in sheds, kennels, and larger portable shelters that can serve as portable animal shelters.
Most animals are used to the outdoors and enjoy the outdoors, but there are times when they need proper shelter.
Damaging and destructive weather can obviously lead to immediate physical damage as well as frostbite, heatstroke and disease.
These are the reasons why proper materials are so important for such kennels and shelters. Quality portable animal shelters and kennels should come with polyethylene covers with material treated to offer protection from UV rays. Adding fade blockers and anti-fungal agents also offer protection for animals.
It's also a good idea to choose a portable animal shelter with a mesh wire grade steel frame.
Run-in sheds are often used for horses and should feature steel tubing, fitted covering and light interior to allow for ambient lighting.
Choose a shelter that can protect animals for long periods of time and can also offer protection when sudden weather changes occur.