Winterize Your Motorcycle by Storing It Safely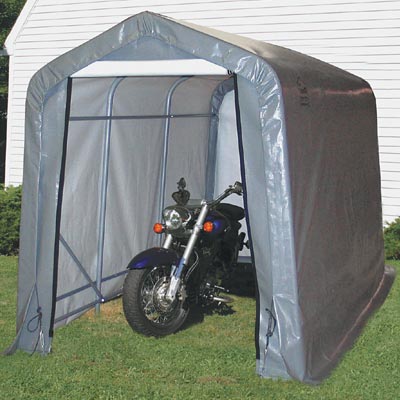 Winterizing a motorcycle is something that almost every motorcyclist does in the northeast. When temperatures drop and the roads become icy and wet, itís time to put away the ride until temperatures warm. If you donít have a garage, though, this can be a challenge.
Call Us Toll Free @ 800.984.7657
Winterizing a Motorcycle
Part of winterizing your motorcycle involves thoroughly cleaning it. You should change the oil and filter, and also keep any moving parts lubed during the winter. This helps keep moisture from building up and causing rust. In addition, you should put the motorcycle battery on a battery tender. This helps monitor the charge of the battery and keep the battery topped off without overcharging it. This, in particular, helps keep the battery from self-discharging.
Even if you do all of this, though, youíll want to store your bike in a dry, safe area over the winter to keep it from snow and ice. If you donít have a garage, though, this can be difficult.
Portable Garage for Motorcycles
Fortunately, thereís a solution to not owning a garage. A portable garage is a great way to store your motorcycle over the winter to keep it out of the worst conditions. Because a portable garage can come in all sizes, as well, you can worth with the space that you have in order to keep your ride in tip-top shape during the coldest months.
If youíre interested in a portable garage of your own for motorcycle storage, then consider Portable Garage Depot. Youíll be able to store your ride with limited space over the winter, and then be able to use it in the summer in order to keep your motorcycle out of the rain. Browse our selection of portable shelters, or contact us to find out which one suits your needs best.