Why Use an All-Metal Carport for Storage?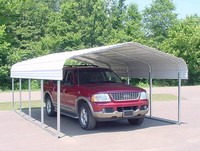 There are many more plusses than minuses to owning metal carports; furthermore, these particular types of carport are designed to endure all types of weather. Hurricanes, blizzards, rain storms, and frigid cold air, along with prolonged exposure to harsh UV rays, are just a few. Beyond strength, metal carports can be used to store seasonally used cars and trucks, they can be used to hold small social gatherings, and they can also be used while taking the family on the annual outdoor camping trip.
Call Us Toll Free @ 475.308.8477
All metal carports come in a wide variety of styles, colors and prices. There are metal carports for small vintage cars or small sailboats like blue jays, and then there are larger ones that can store large tucks, boats, and horse trailers, and some that are even large enough to hold a wedding reception. Having a multi-purpose structure at one's disposal is a very good idea, especially for the every busy family of four.
One of the best uses of a metal carport is for seasonally-used cars and boats. For the families who live in cold weather state and own a home in warm weather state, then having an all-metal carport at the ready is a grand idea.
Vintage cars and antique boats can be easily damaged and even wrecked if they are not stored properly. Older cars have very delicate paint jobs and undercarriages that can be adversely impacted be bad weather; too much time in the sun and or too much time exposed to the cold weather can cause serious-value damaging things to happen to a car or a boat. The best way to prevent this type of damage from occurring is by purchasing an affordable, durable, and easy-to-install all-metal carport.