Why Use a Metal Shelter?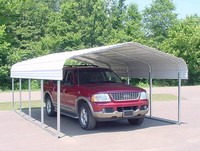 When you decide the team is right for a metal carport, you've probably decided that this type of portable shelter is cost-efficient, sturdy and reliable.
Call Us Toll Free @ 800.984.7657
You'd be right. The metal makes the difference and provides a sense of strength and security you will not find with other materials. Portable Garage Depot offers terrific products that are specifically designed to protect some of the things that are most important to your needs, be it personal property or business equipment. These are portable metal shelters that can protect your car, truck, boat, RV and livestock.
When we talk about protection, we are talking about protection from bad weather, erosion and UV damage.
Lifestyle and business practices can determine how you employ your portable metal shelter. Portable garages, particularly metal ones, are great options for people who have seasonal recreational vehicles. These are things like boats and RV's. Big ticket items are investments and we all want to protect our investments. Metal carports and shelters deliver such protection.
Portable Garage Depot has metal shelters that have metal covers constructed with 29 gauge steel. This is steel durable enough to prevent vehicles and equipment from strong, destructive weather.
Have questions about a metal shelter? Contact Portable Garage Depot today to find out how a portable metal shelter can work for you.