Why It's Important to Keep a Portable Greenhouse Clean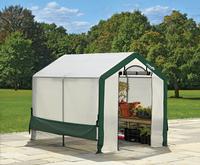 Keeping your greenhouse clean is essential if you want your plants to grow tall and healthy. It will also help you prevent pests and algae from damaging your crops. You should routinely keep your greenhouse as clean as possible and thoroughly clean it between growing seasons to prevent problems and ensure success.
Call Us Toll Free @ 475.308.8477
You can prevent disease contamination by creating washing stations for hands or foot baths near the entrance to your greenhouse. Keep your hands and fingernails clean when working with plants. Keep pets away from benches and potting areas. Keep plant containers and hose nozzles off the floor. Keep growing media in a clean area and covered, and do not carry things over plants. Do not keep dirty pots, old growing media, or plant debris in the media mixing area. Keep trash cans covered. Apply horticultural oil to plants and weeds outside your greenhouse.
The first step in your seasonal cleaning is to remove all weeds, debris, and soil from your greenhouse. You can clean the walls with a cleaner specifically formulated for use in greenhouses. You may also choose to use a high pressure power washer with soap and water. Soap is effective at removing greasy deposits, but you must be sure to rinse your greenhouse thoroughly. When cleaning your greenhouse, be sure to clean the rafters, window ledges, tops of pipes, and overhead plastic, in addition to the walls, floor, and shelves. If the floor is dirt or gravel, you can install weed barriers to prevent weeds and algae. Avoid using stone on the floor.
Algae are a diverse group of plants that can prevent crops from becoming wet and can clog irrigation and mist lines and emitters. Algae can also be food for pests and cause slippery floors. You should avoid overwatering plants and using too much fertilizer to prevent algae from growing.
If possible, use benches made of wire and bench tops or work tables made of a non-porous surface, such as laminate, that is easy to disinfect. Avoid wood, which can rot. Disinfect benches and tables between crop cycles.
Plant pathogens can survive in root debris or soil on surfaces inside your greenhouse. If a plant had a disease, you should not reuse its container. If you are going to reuse containers, wash and disinfect them thoroughly.
Cleaning your greenhouse with a disinfectant can remove bacteria, fungus, and algae and keep your plants healthy. Some commonly used disinfectants are quaternary ammonium compounds, hydrogen dioxide, hydrogen peroxide and peroxyacetic acid, hydrogen peroxide, peroxyacetic acid and octanoic acid, sodium carbonate peroxyhydrate, and chlorine bleach. Be sure to read the label and follow the instructions carefully.