When is it Necessary to use an Enclosed Portable Garage?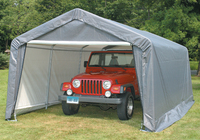 Being left outside in the elements every day can be detrimental to a vehicle. Homes without garages should have an enclosed portable garage to protect any possessions that would normally be left outside. If vehicles or other investments are left outside unprotected, they can be damaged and their value will decrease. What can be stored in an enclosed portable garage?
Call Us Toll Free @ 475.308.8477
• Cars
• Trucks
• Boats
• RVs
• ATVs
• Motorcycles
• Animals
• Tools
• Equipment
• Miscellaneous Items
Essentially anything can be safely stored in an enclosed portable garage as long as it fits inside.
What will an enclosed portable garage protect possessions from?
An enclosed portable garage will protect possessions from any outdoor elements. They come with heavy-duty polyethylene covers that are treated to be UV resistant and waterproof. Many vehicles are left outside year round with no protection. It is necessary to use an enclosed portable garage whenever any possessions are left outside and open to damage from the elements. The sun's harmful ultraviolet rays can cause paint to fade, crack, and peel. Water, either from rain or snow, can seep into a vehicle causing rust or interior damage to the wiring or upholstery. Heavy winds can kick up rocks, blow sand, or even cause branches to fall from trees. While inside of an enclosed portable garage, any possession will be protected from being damaged by the wind. By storing a car, boat, motorcycle, RV, or other investment in a portable garage seasonally or daily, their value will not drop because of damage from the elements.
What kinds of enclosed portable garages are there?
There are three main types of enclosed portable garages, and they are house, round, and barn. All three types are made from the same heavy-duty materials. Their frames are made from steel that has a powder coat baked on to prevent rust, corrosion, and chipping. The steel tubes are also swedged for easy and fast assembly. All of the covers are made from a polyethylene material that is hard to tear and is treated to be UV resistant and waterproof. The polyethylene cover will enclose the portable garage on all four sides, with zipper doors on the front and back. Anchors are used to secure the portable garage into the ground for added support.
Enclosed portable garages are necessary anytime there are valuable possessions left outside unprotected. Without one, cars, boats, RVs, motorcycles, and other investments will be damaged by the harmful elements of the outdoors.