Using a Portable Garage for a Boat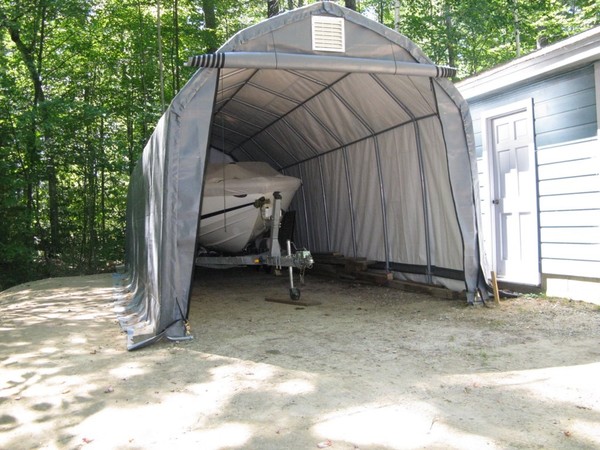 "I keep my boat on the side of the house and am about done with having it sit outside all year long. I'm looking into getting a portable garage," one boat owner said.
Call Us Toll Free @ 475.308.8477
He's right! Using a portable garage for a boat makes a lot of sense. They are ideal for boat owners who don't have garages designed to fit a boat, and they are preferable to flimsy covers or leaving the boat exposed to the elements, which can cause tremendous damage to an expensive investment.
Portable garage providers offer portable garages that are customized for boats, with all-weather boathouse frames that are built to last with powder-coated steel framing and galvanized steel tubing that provides the best all-weather protection.
The portable garages designed for boats are round style buildings ideal for snow, sleet, and rain runoff. Choose between peak, house, and truss style portable garages with powder-coated or galvanized steel framing.
Portable garages for boats are easily assembled and offer maximum protection against the elements and an array of perks that keep your boat in the best condition for as long as you own it. The garages come in a variety of colors, shapes, and sizes to accommodate your boat and suit your needs.
They also come with all fabric components featuring heat-welded seam construction to maintain 100 percent waterproofing and allow you to cover your boat with UV-resistant, fire-retardant polyethylene with fabric backing and rip-stop material that protects your boat in the portable garage.
Portable garages are ideal for all kinds of boats, from bass boats to pontoon boats and yachts.
Why go through the hassles of dry docking fees, shrink-wrapping, yearly maintenance, and waiting lists when you can purchase an affordable, easy-to-assemble portable boat garage? The kits come with easy-to-read instructions, easy bolt-together design and are pre-drilled and cut to your specification. The pre-drilled frame makes for easy assembly with minimal hand tools, providing you with a multipurpose, all-weather portable garage that will shelter your boat during the off season.