Using a Pop-Up Canopy in the Summer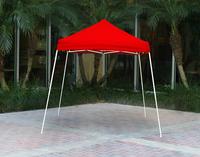 There are lots of cool outdoor activities to take part in during the summer months.
However, staying cool can be tough sometimes. Maybe you need a little shade thrown your way.
No problem. This is where a pop-up canopy can deliver shade from the summer heat.
Call Us Toll Free @ 800.984.7657
Versatility is the selling point for these canopies. A canopy can protect people, vehicles and equipment.
Itís not just about sun and shade. A durable pop-up canopy can protect people and items from rain as well. This makes it great for parties, picnics and other outdoor summer events. People wonít have to worry about sunburn or rain. They can settle in, sit in the shade and enjoy the party.
Maybe your needs expands beyond a private party or family barbecue. Check out any farmerís market in the summer months and you sell plenty of pop-up canopies being used to keep buyers and sellers cool and protected.
You just need to know what you want from a canopy. They come in different sizes so you should have no problem finding one that accommodates your needs. Many basic pop-up canopies are versatile and lightweight, making them easy to transport.
The canopies at Portable Garage Depot feature water-repellent polyester fabric and are treated to block out harmful UV rays.