Using a Motorcycle Capsule for Storage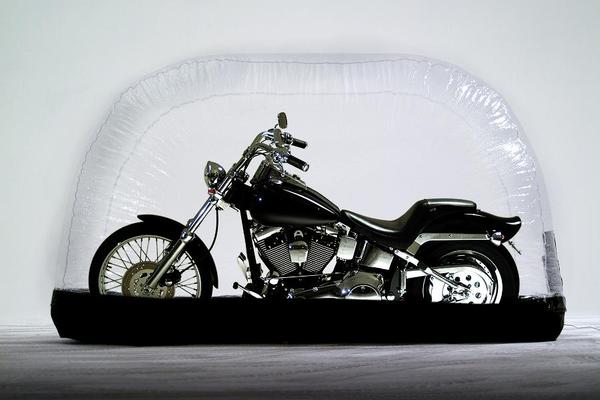 People who love their motorcycle... really love their motorcycles.
Of course, serious motorcycle aficionados know that motorcycle storage can be an issue. Off-site storage can get expensive fast.
Call Us Toll Free @ 475.308.8477
Perhaps a car or motorcycle capsule is the best option. These capsules allow you to protect your motorcycle indoors without worrying about setting aside a massive amount of space.
It's important that motorcycles are protected when they are not being used. This can mean winter storage. The wet, cold weather that accompanies winter can do serious damage to a motorcycle. And sometimes garages or bike shapes aren't always the best solution for shelter.
Indoor motorcycle capsules are clear and inflatable. They will protect bikes from all types of dirt and grime. This includes things like dirt, dust, debris, dents, moisture, rust, scrapes, scratches and more.
These bike capsules are the newest thing in vehicle storage. They are especially enticing to owners of vintage motorcycles. These are people who want reliable protection for their investment.
The 12-foot bike capsules from Portable Garage Depot are easy to use and maintain. The capsule inflates around the bike. This is how the capsule is able to prevent corrosion. The protective barrier even protects against fingerprints. This bike capsule is made of 18-ounce Herculite material. This material is impervious to gas, oil and antifreeze. Each motorcycle capsule includes a 12v fan that inflates the capsule. This process creates an airtight bubble of protection.
If this seems like the perfect solution to your motorcycle storage needs, contact Portable Garage Depot today.