The Top 3 Best Uses for a Peaked Portable Garage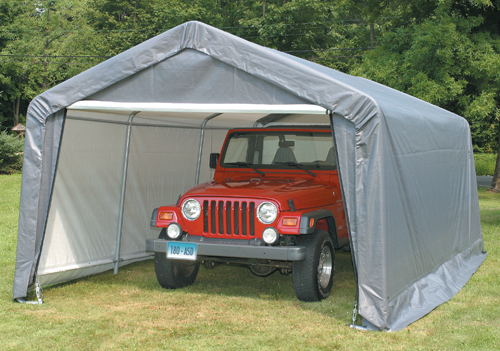 Within the shelter and storage community, the debate between peaked and rounded portable garages continues to go on. Some consider the latter superior, as it's better when handling snowfall, while the former, others argue, is classic and gives more headroom.
If you've been thinking about either one, where does a peaked portable garage excel? We list the top three uses:
1. Temporary Sheds in Warmer Weather
You have a boat, motorcycle, or car needing storage and want something to cover it against sun and UV rays. While you have a physical storage space reserved for the winter, what options do you have for keeping it shaded in summer? Here, the straight sides and pitched-upward, angled roof let you maximize interior space, all while the structure blocks out the elements on both hot and wet days.
2. Long-Term Shelter in Areas Without Much Snowfall
While more temporary shelters have a peaked shape, what if you're looking for long-term storage? These types of portable garages aren't off limits, and in fact, can protect everything all year long, should your area not experience significant snowfall. As there's a greater risk of this precipitation building up on top and weighing down the shelter, it's not the best for colder climates, but if you're located in a temperate area with moderate rainfall, it allows for a large amount of interior room for cars, boats, RVs, and equipment.
3. Commercial Storage in Areas Without Snow
A portable garage, regardless of type, isn't solely for vehicles. Practically any item needing shelter can be stored inside, provided the interior's large enough. As a result, plenty of commercial-size structures are designed with a peak, offering the room to protect farm, gardening, and industrial equipment, keep your hay dry, shelter your tools, and even store company merchandise.
Interested in a peaked portable garage? Begin your search with Portable Garage Depot. Browse our store for shelters small enough to house a single motorcycle to those large and sturdy enough for commercial facilities.