Tips for Using a Portable Horse Shelter?
Call Us Toll Free @ 475.308.8477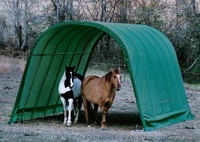 A unique cost effective type of shelter is an animal shelter. Instead of building a very expensive riding area or building a large wooden barn, there are number of less expensive alternatives.
A Place to Escape and Rest
In terms of riding area for horses, one solution would be purchasing a portable horse shelter; with regards to providing a place to escape harsh sunlight and relax in some shade, a 22' foot wide animal shelter is ideal. This animal shelter is all weather. It comes with a powder-coated, heavy-duty structural steel frame and a polyethylene cover. This horse sanctuary is perfect for those riders on the competitive horse circuit or for those who are members of a travelling polo team.
Shelter
A horse shelter is a safe, affordable, and reliable way to provide a horse with a safe place to rest. Just as a portable shelter for recreational vehicle owners, commercial bus owners, and big rig truck operators is less expensive than building a garage, a portable horse shelter has numerous economic benefits as well. By purchasing and installing a portable horse shelter on their own property, the owners will have easy access to their animals along with the peace of mind that comes with being able to see and touch their prized possession. Horses, much like antique cars, boats and other prized possessions, require a substantial personal and financial investment. There is no better way to safeguard an investment in a horse than by purchasing a durable, affordable, and reliable horse shelter.
Keeping Livestock and Equipment Dry
In addition to providing the horse with shelter, these types of structures can also be used to keep livestock nice and dry; furthermore, they can also be used to shelter lawnmowers, sports equipment, saddles, and many other things. A portable horse shelter has many different uses.