Cover It Better
Three Tips for selecting a replacement cover for your portable garage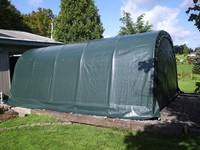 Did the cover on your portable garage rip or wear out? If so, there are a few ways you can go about replacing it! Follow these steps to replacing your portable garage cover. If you don't know what you're looking for, how can you even begin to purchase a new one?
Call Us Toll Free @ 475.308.8477
Warranty – First things first, check to see if your portable garage cover is still covered by the warranty. If you just purchased your portable garage and your cover has already ripped or cracked, chances are, it's still covered by the factory warranty. To find out, dig up your warranty agreement and see how long your warranty is extended for. If you have any questions about your warranty, feel free to call the manufacturer. Why purchase a new portable garage cover if you can get a replacement for free?
Determine the Cause of the Damage – If your cover isn't still under warranty, the next thing you should do is find out what caused the cover to rip, bend, or otherwise become damaged. Determining the cause of the damage will help you determine if you should purchase the same cover you had before or if you should upgrade. Here's an example: Say your portable garage shelter is rated for high-speed winds, but after the last storm, you found your cover torn and ripped to shreds. Unless there was a factory defect, then perhaps the cover you had wasn't as strong as you thought. This is a great case in which you should probably replace your broken cover with a more durable one. On the other hand, if your portable garage has been weathered for more than just a few years and your youngest son accidently poked his spear gun through the roof, chances are there was nothing inherently wrong with your cover. Go ahead and replace it with an identical one.
Purchasing a Different Cover – If you want to purchase a different cover than the one your portable garage came with, here are some things you should know. First, find out which covers will work well with your portable garage frame. If you'd rather replace your soft top with a hard top, find out which galvanized steel covers will attach to your portable garage frame. If you're sticking with soft tops, make sure that the cover you choose will work seamlessly with your existing carport.