Tips for Enclosing Your Valance Carports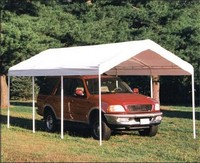 We know that you love your open valance carport. It's easy to maintain, even easier to clean, and it keeps the rain and sun off your vehicle. As much as you love your valence carport, sometimes you wish that it had four walls. This desire usually surfaces after a snowstorm or when the rain is falling on an angle or even when you have friends over and you don't want their kids running through your carport with jagged sticks. Whatever the reasons you wish you had four walls on that open, valance carport, you'll be happy to know that you can enclose your carport whenever you want. Here is how.
Call Us Toll Free @ 800.984.7657
Purchase Walls – The first thing you need to do is purchase the walls to enclose your carport. You can purchase said walls from your portable carport dealer. In fact, we recommend that you purchase additional walls from the same company you purchased the carport. This will ensure that the walls fit and fasten correctly.
Fastening the Walls – Once you purchase removable walls it's time to learn how to properly attach them. First, push the flaps on the valance carport up and out of the way; next, take one of the walls that you purchased and connect it to the now-exposed framing. The new wall can usually be attached via Velcro, but it can also be attached by a plastic clip; it just depends on the type of carport you have. After the sidewall is attached, go ahead and return the top flap back to its original position. Next, you need to go under the carport and approach the new wall from inside. Once there, you can further attach the new wall to the inside of the frame. This will help secure the new wall against wind and rain. Continue to fasten the new wall to the metal legs of your carport. Once you finish one sidewall, go ahead and get started on the next following the same installation steps.
The best part about adding walls to your valance carport is that you can easily remove them whenever you want. It only takes a few minutes to add removable walls to your carport, so why wouldn't you want to have them handy? If you know there is going to be a bad storm with high winds and lots of rain, attach the removable walls to protect your vehicle.