3 Reasons to Use a Rounded Portable Shelter in Winter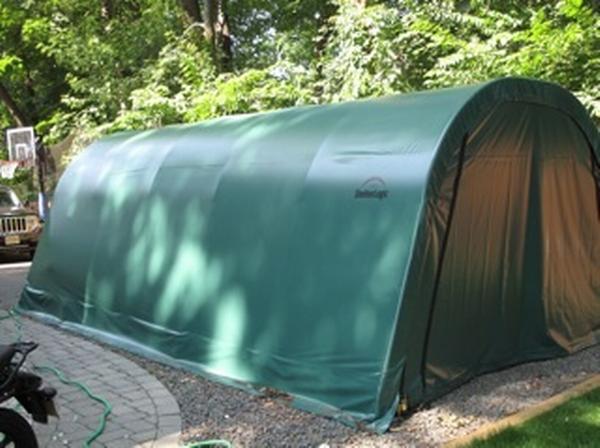 Winterís the time many consider purchasing a portable shelter. And, itís fairly obvious to see why. Homeowners dread having to clean off their car every morning, find dealing with ice frozen to the surface of a car a major convenience, and, if they own a seasonal vehicle, wonder about the impact of moisture and UV rays on its appearance and operation.
Yet, as you shop around, your search yields three distinct styles:
Peaked shelters, characterized by a house-like pointed shape with straight walls.
Rounded shelters, known for a tunnel appearance that extends from one side to the next.
Barn style, which essentially blends both peaked and rounded components.
Out of this group, homeowners dealing with blizzards, frequent snowfalls, and heavy rain are advised to go with the rounded style. But, why?
1. Consider Snow Loads
Peaked and flat buildings accumulate a certain amount of snow. When the roofís angled to a certain point, the precipitation simply stays on top, not moving until it melts or you shovel it off.
In regions with less snow and rain, an excessive amount wonít weigh your shelter down. But for those in areas that can see multiple feet of snow from one storm, you want a shelter that allows the precipitation to roll off. Simply put, thereís a far less chance of snow and ice collapsing your shelter.
2. Other Protective Properties
As another benefit, tunnel shelters nearly always come with a fully enclosed design. As youíre looking to have comprehensive protection from the weather and elements, you donít want to make a compromise.
No matter if youíre placing a boat in storage or want better protection for your car, this shape fully blocks out UV rays Ė a factor known for fading and cracking paint Ė and ensures moisture, known to create mildew, mold, and dry rot long term, wonít get inside.
3. Strength
The backbone of any portable shelter, peaked or rounded, is a high-quality steel frame. And, when you consider the options out there, a galvanized structure is ready to hold up to the unpredictability of winter. The zinc-steel alloy remains resilient to the elements without cracking, and once itís installed and anchored, itís prepared to handle high winds and heavy snows, within requirements.
Along with this aspect, the typical rounded shelter offers a woven polyethylene cover. Essentially functioning as the outer shell, its construction blocks out moisture without locking it inside and acts as a protective barrier against UV damage.
If youíve been debating about the best shelter to last through winter and more seasons, consider a rounded portable garage. Browse multiple sizes through Portable Garage Depot before purchasing one today.