The Strongest Carports are Made from Galvanized Steel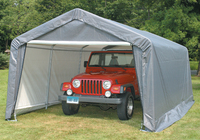 Many things that are going to be exposed to the outdoors often are made from galvanized steel. Galvanized steel is the preferred material for carports because it will not rust, corrode, or scratch, and is strong and durable. When it comes to protecting a vehicle from being damaged by the harmful elements of the outdoors, a carport made of galvanized steel is a top choice.
Call Us Toll Free @ 800.984.7657
What is Galvanized Steel?
Galvanized steel is steel that has gone through a chemical process to keep it from corroding. The steel is coated in layers of zinc oxide and this protective metal does not get rusty easily. The coating also makes the steel a more durable and hard to scratch surface. These characteristics are what make galvanized steel carports so enticing for outdoor use.
Why is it used to build Carports?
Carports are used to take the damage for the vehicles that are parked underneath them. The harsh elements of the outdoors can be detrimental to vehicles that are left uncovered. Many carports are built from galvanized steel to create long lasting protection for any vehicle. Carports made from galvanized steel are less likely to rust, corrode, and scratch over time. This means that a carport made from galvanized steel will be able to provide protection for many years before it needs to be replaced, making it a sound investment.
What does a Galvanized Steel Carport provide protection from?
The sun's ultraviolet rays can seriously damage a vehicle. It can cause paint to fade, crack, and peel, which can be expensive to repair. Constant exposure to rain and snow can cause a vehicle to rust or can cause electrical and interior damage. Heavy winds can kick up rocks, sand, and salt that can cause damage to the exterior of a vehicle. The zinc oxide coating will keep the carport strong and protect any vehicle from succumbing to these damaging elements.
Galvanized steel carports are considered the strongest type of carport for all of these reasons. They are affordable, strong, and durable. One galvanized steel carport can provide years of protection to any kind of vehicle.