The Power Powder-Coated Steel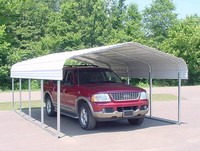 Many portable garages and shelters will feature powder-coated steel.
So what is powder-coated steel? Itís a dry finishing process. Itís become more common over the past several decades. It is used in those portable garages and shelters and many other products. In fact, more businesses that deal in steal are dealing out powder-coated products.
Call Us Toll Free @ 475.308.8477
Powder coatings are noted for a high-quality, durable finish that allows for maximized production. It is both functional and (when need be) decorative.
The durability of powder-coated steel is what makes it so attractive for portable shelters. Powder-coated steel is very resistant to cracking and peeling. This means it is designed to offer protection for harsh weather conditions. This means choosing a portable garage or carport with powder-coated steel means you are choosing a structure that is going to offer protection for many seasons.
Powder-coated steel is also environmentally friendly. Powder coating does not contain any of the solvents that have volatile organic compounds. One of the reasons powder coating is gaining in popularity is the fact that it complies with the more stringent air pollution control legislation that has been put into effect in the last 30 years.
All this is important when choosing a portable garage or shelter for your home or business.