The Best Portable Garages for Blizzards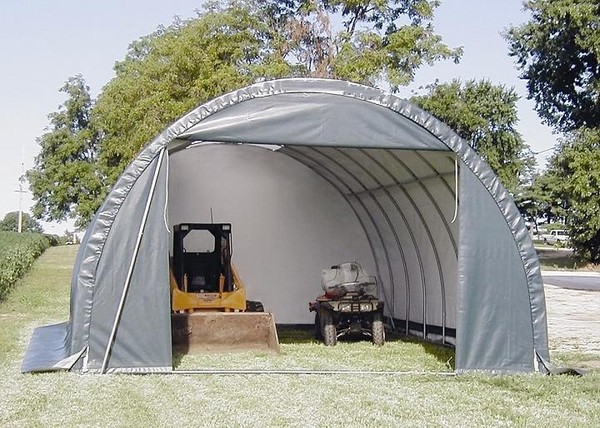 As many in the Northeast know, blizzards are something you have to deal with, from early preparation to strategic cleaning once it blankets your grounds. Snow falls in high amounts, accumulating on roofs and any other object within sight; if not cleaned off soon enough, the snow and ice can collapse your roof, create a leak, and even lead to water damage.
Wind, too, presents its own set of hazards. As many find, fast-moving gusts all have potential to whip through your yard, blowing over anything that's not bolted down and causing weak or dead branches to fall onto patio furniture, your car, and even your home's roof.
With these points in mind, having a portable garage that can withstand extreme elements becomes essential. Not just any shelter will do - after all, you don't want to replace your structure each season - so consider these options:
Round-Roof Portable Garages
You recognize these by their tunnel-like structure, which offers a curved surface ideal for managing precipitation. Here, when the storm arrives, snow in the early stages will simply roll down, instead of pile up on top.
But, while this shape tends to be better for shedding anything from snow to rain, understand that, for superior outdoor strength, your shelter should have a galvanized steel frame. The strongest option out there, its construction features a zinc-steel alloy, which naturally withstands rust and UV rays and won't chip as quickly as powder-coated options do from regular exposure to the elements.
Square-Tube Shelters
If you're eyeing strength alone, and have an efficient snow-removal plan in place, this frame delivers precisely what you're seeking. While shelters typically have a peaked shape, their industrial-grade construction forms a formidable foundation that stays strong against 80 MPH winds and up to 43 pounds per square foot snow loads - enough to handle a typical Northeastern winter.
Metal Portable Garages
Another peaked option, these shelters tend to be designed with both longevity and everyday usage in mind. As such, they feature a valance shape with open sides, which can be modified for greater coverage, and use a galvanized steel frame and a coated 29-gauge steel roof. Here, the structure's sturdy enough to withstand up to 100 MPH winds and 35 PSF snow loads.
For all shelters, keep in mind that, for full effectiveness against winter conditions, the frame must be properly anchored into the ground, and the canopy or roof fully attached.
If you're looking for a rounded portable garage, a square-tube shelter, or a metal carport, turn your search to Portable Garage. Our selection encompasses a range of structures for seasonal and year-round use. Browse today to find a size and shape precisely suited to your needs.