Storage Options for a Boat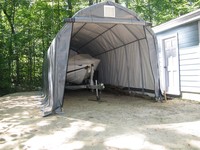 Boat owners have lots of responsibilities.
In other words, owning a boat can be a lot of work.
One of many things a boat owner has to think about is boat storage. Most boats won't stay in the water 24/7/365.
Call Us Toll Free @ 475.308.8477
So what to do about storage? What about a portable garage? Many boat owners don't want to shell out big bucks for an expensive dock harbor. A portable garage is a more economical solution. It's also a reliable solution, one that should put a boat owner's mind at ease.
It's more than just the money but, as we discussed, cost is a factor. Dock fees and slip rentals are not cheap. Storage centers can also get expensive. The investment into a portable garage can pay off for a boat owner. Portable Garage Depot offers durable, commercial-grade portable building shelters.
The portable aspect of these shelters should not be overlooked. A boat is a seasonal vehicle for many boat owners. It's on the water for the summer months or for fishing trips, then retired to storage for the rest of the year.
Portable Garage Depot offers portable shelters in several sizes. These shelters are constructed out of powder-coated, heavy-duty structural steel frames and come with polyethylene covers. These steel frames are anchored and offer terrific year-round storage protection and will block out UV rays. They also protect against water damage. Who wants a boat with water damage?
A strong, durable storage option for a boat will keep the boat in top condition and allow you to enjoy many summers on the water.