Selecting the Right Carport for the Snow: Your Options
It's almost winter, and if you own an RV, boat, or even a car you use every day, you know one thing: Any carport needs to withstand the weather.
As a base line, getting through the weather – lots of snow, freezing rain and ice, UV rays during the day, and high winds – depends on the design. Strength is the name of the game, and you have a few choices for getting it:
Fully Metal Carports
Auto experts often turn to these shelters as year-round storage solutions. And, there's a good reason for it: The galvanized steel frame and roof are sturdy enough to keep out the elements in any season, and that includes winter. In fact, the design – made out of a steel and zinc alloy that stays strong against the elements – naturally withstands UV rays, rot, and moisture; proper installation lets it last through snow and wind.
In addition to the strength, make sure you've got a frame that will let precipitation roll off: rolled has a slight curve, while box eave directly slants down to the ground. As well, if the structure has open sides, modify them with walls once the temperatures drop.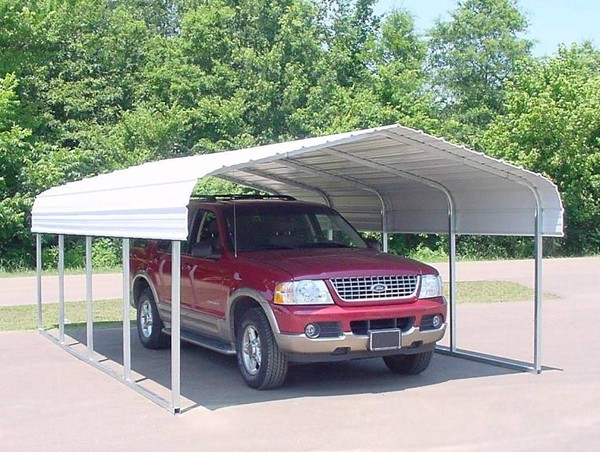 How strong should the shelter be? Your carport must have at least a 12-gauge steel frame. Portable Garage Depot even goes beyond with 14-gauge metal carports.
Polyethylene or Vinyl Carports
For full, all-around coverage, a polyethylene or PVC cover blocks out the elements just as well. Coupled with the steel frame, the material – rip-stop and treated to withstand mold, mildew, water, rot, and UV rays – acts as a shield to the weather.
Many consumers find the structures vary in strength, from lighter powder-coated steel varieties to sturdier square-tube carports. What's best? First, look for one that's snow and wind rated. The stronger shelters through Carport Depot, for instance, handle up to 40 to 60 pounds per square foot of snow, and last through 100 mile per hour winds.
Along with these attributes, look at the shape. If your area experiences high levels of precipitation, go with a carport featuring a curved or angled roof. This way, snow or rain just rolls down the side and to the ground.
Your carport, on the other hand, doesn't go at it alone. To give your vehicle the full protection it requires, make sure it's sufficiently anchored into the ground.
What's the best solution? Consider your local weather, from curved shelters to peaked all-metal carports. Explore your options for snow load and more shelters through Portable Garage Depot.