Preparing Your Vehicle for Storage in a Car Capsule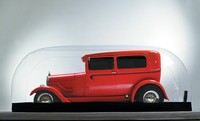 If your vehicle is your prized possession, you want to protect it from damage. A car capsule is an effective way to store your vehicle for a long period of time and protect it from rust, dirt, dust, fingerprints, and dents and dings from any number of objects.
Call Us Toll Free @ 475.308.8477
Indoor car capsules range in length from 14 to 22 feet. They are constructed with 10 mil PVC material that is designed to resist flames and prevent rot and mildew. A car capsule is inflated using a 12-volt fan to provide a protective shell around your vehicle. The 18-ounce herculite base resists damage from oil, gas, or antifreeze.
If you are planning to store your vehicle in a car capsule, it is important to prepare it properly to prevent any damage while it is in storage. Thoroughly vacuum the interior, including under the seats, in the cup-holders, and under the mats. Clean any dust with a wet rag, but do not use too much soap. Wash your vehicle and dry it thoroughly to prevent rust from developing and to protect the paint from bubbles. Finally, wax the paint.
Before storing your vehicle, you should change the engine coolant, oil, hydraulic brake, hydraulic clutch, and windshield washer fluid. You should also fill the gas tank.
Car batteries can become damaged when they are in storage for a long period of time. In order to prevent damage, you should remove your vehicle's battery and charge it with battery tenders.
When you store your vehicle, do not engage the parking brake. This could cause the brake pads to fuse with the rear brakes.
An indoor car capsule is the best option for long-term storage of a vehicle to protect it from wear or damage that could result from a number of causes. Preparation is key to ensure that your vehicle will be fully protected while in storage.