Preparing for a Trade show with a Pop Up Canopy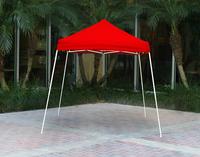 There is an also plethora of smaller decorative canopies that are ideal for trade shows, sales meetings, and product demonstrations. With their lightweight design and easy to assemble and disassemble functionality, these canopies have numerous uses. They are great for providing shade on the beach, shelter for evening dinners, cover for registration desks, and for camp sites.
Call Us Toll Free @ 475.308.8477
For example, the 10x20 Decorative Canopy comes with 3/8" diameter white powder-coated steel tubing, 8 legs - (4) Foot Plates-white, and temporary spike anchors, a slip-fit connection design for easy assembly and a 300 Denier water-repellent polyester top, and ultraviolet treated cover that is available in blue, green, or black color. It weighs a mere 89 pounds, and it also comes with a durable nylon carry bag.
Traffic
This type of canopy is ideal for use at trade show, corporate function, or sales demonstration. When it comes to generating foot traffic at the busiest and most important industry trade shows, having a tent with serious curb appeal is key. A decorative pop up canopy will, in all likelihood, draw more curious visitors than a plain, drab informational booth. They are just what the doctor ordered in terms of displaying of boats, camping equipment, gardening tools, and just about anything else during a trade show.
Making the Sale
Pop-up canopies are as easy to assemble as they are to disassemble; they are inexpensive, durable, and even alluring. A decorative pop-up canopy that matches the style of a product or business will help in sales, grab the attention of busy, and often times bone weary, trade show participants. Once a trade show participant has stopped and glances over at the product, then the sale is half way done – a professional pop up canopy will help makes this transaction happen.