Portable Boat Storage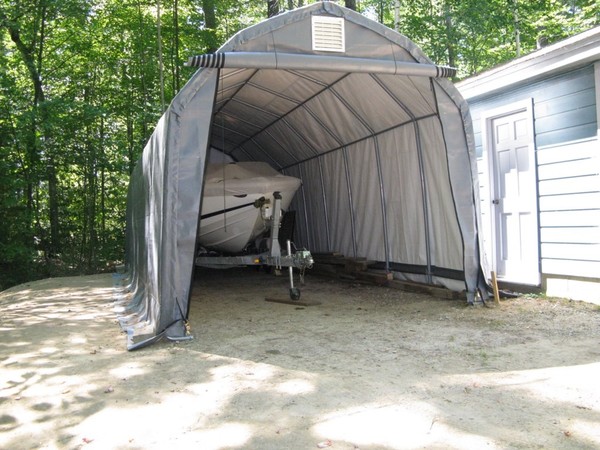 Most boat owners don't have the luxury of keeping their boats in the water all year round. Some owners are left scratching their heads trying to figure out a safe and affordable solution.
Call Us Toll Free @ 800.984.7657
It may not seem like the obvious choice, but a portable garage just might be the best option. Portable storage buildings will offer a boat protection from all types of weather. This is because portable garages are a terrific storage choice.
Don't let the word "garage" fool you. Custom boat buildings are available and made to store everything from bass boats to pontoon boats to yachts. Look for portable all-weather boathouse frames that are durability and built to last no matter what the conditions. These types of frames should be made with galvanized or powder-coated steel. This type of material is designed for durability and should give you piece of mind that you've chosen the right structure to store your boat.
Portable Garage Depot delivers such protection for your boat. Portable Garage Depot can protect your boat from UV-rays and water related damage. Let's face it. When you are enjoying your boat on the water, it's going to be exposed to the sun. That's why it is nice to have that UV protection when your boat is out of the water. You can keep your boat sheltered in the summer than store it in the summer, all with the same portable structure.
This versatility will save you the trouble of finding the right place to dry-dock or renting a boat slip.
The other advantage of portable garages and custom boat buildings is that they are easy to assemble. And since they are portable, there is no commitment. You are not erecting a permanent structure for boat storage. Kits from Portable Garage Depot come with easy-to-understand directions. The kits are easy to blot together and are pre-drilled and cut to your specification.