Portable Hay Storage Shelters vs. Permanent Barns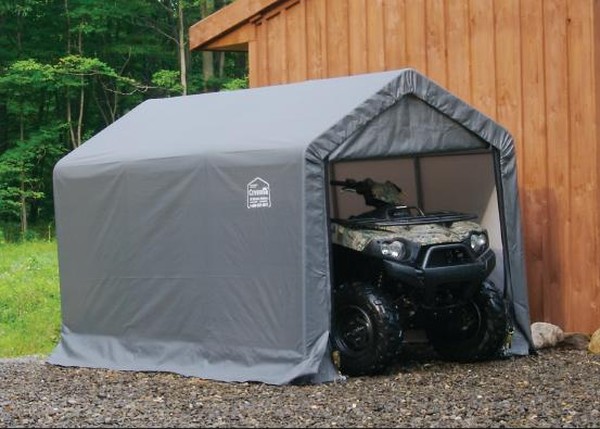 Portable hay storage shelters offer a number of advantages to permanent barns. First of all, it's much less expensive to purchase a portable shelter than build a permanent barn. Next, portable shelters are frequently not taxed as property since they are not permanent buildings, so you can save money on taxes. You can also set up a portable shelter for hay storage quicker than building a barn. Finally, a portable shelter may be smaller than a permanent barn, so it saves space.
Call Us Toll Free @ 475.308.8477
Portable Garage Depot offers a wide selection of portable shelters that can be used on farms for hay storage. They can also be used to protect livestock and store feed. Choose from a variety of sizes and colors for durable shelters featuring heavy-duty steel frames with covers made from durable layered polyethylene.
We offer barn style portable storage shelters that are 15' wide, 20' long and 14' or 17' high. The covers are available in 14.5 oz. or 21.5 oz. material that comes with a 10-year warranty.
Our storage shelters can protect your hay and other farm items from high winds, heavy rain, snow and other elements. They're easy to assemble and a cinch to set up and take down and can be used on a short term or long term basis.
If you have a lot of animals on your farm, you must be storing a lot of feed. Now you can use a convenient storage shelter for hay storage. Your farm doesn't need to worry about hay bales with our portable hay storage shelters.
Call Portable Garage Depot today at 800-984-7657 for details on portable hay storage shelters, which fit economically on your farm and are a great alternative to permanent barns.