Portable Garage Repairs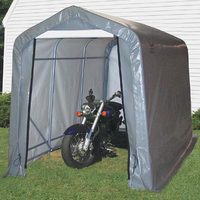 Two of the biggest selling points for portable garages and carports are mobility and durability. The portable garages and carports available at Portable Garage Depot are sturdy, durable and easy to assemble.
Call Us Toll Free @ 475.308.8477
That's not to say there will not occasionally be the need for some repairs. The good news is that any repairs that need to be are usually easy to do. Portable Garage Depot wants to make life easier for you if issues do crop up.
If you think there might be damage to the carport, perhaps after a storm, the first thing you need to do is inspect the portable shelter. Give it as thorough an inspection as possible. Damage might be clearly visible. A sagging shelter can be a sign of damage to one or more of the support poles. There might also be damage to the roof of the shelter.
There are two basic ways to deal with a damaged cover. There are repair kits for the covers.
Replacement covers are also an option. Portable Garage Depot has a wide selection of replacement covers for shelters and canopies. This means Portable Garage Depot has replacement covers for just about every size and style of portable shelters. If you need help determining what kind of replacement cover is right for you, contact Portable Garage Depot today.