Portable Garage & Storing Hay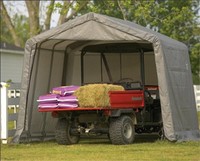 Winter can be a tough time for hay and those who depend on hay. That's because rough weather can be brutal on the hay and cause damage that could lead to some of the hay going to ruin.
People who use hay at homes, farms or other agricultural businesses will often buy hay in the summer. They will likely purchase enough hay to last through the winter. Yet some people may not have adequate space to store the hay anywhere but outdoors.
Call Us Toll Free @ 475.308.8477
This is the time to consider a portable garage for hay storage.
A portable garage is a terrific place to store hay bales in the winter. It also frees up other areas of storage.
Hay is at its best when it stays dry. This is why long-term exposure to rain and snow is bad. Moisture can lead to mold, which will ruin the hay. When storing hay in the portable garage, make sure the interior of the garage stays dry. There should also be ventilation in the portable garage. Stored hay can be dusty.
It's also a good idea to store the hay bales on top of wooden pellets.
Check out Portable Garage Depot to check out the full line of portable garages. All custom garages and carport frames are made of either galvanized steel or powder-coated steel.