What Maintenance Needs to Be Done to a Car in Long-term Storage?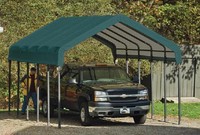 If you are going away or not planning to use your car for a while, you should take steps to protect it from wear and damage when not in use. Choosing the right type of shelter and doing proper maintenance before putting your car in storage can ensure that it will be in top condition and perform well when you are ready to drive it again.
Call Us Toll Free @ 800.984.7657
The most important factor to consider when placing your vehicle in long-term storage is how you will protect it from the elements. A garage or portable carport is the best solution to protect your car from rain, snow, sleet, or extreme temperatures.
Before you put your car into your garage or carport, there are a few things you should do. Wash the car and remove any stains or bird droppings that could damage the paint if they were to be left on the car for a long period of time. Be sure to clean the wheels and undersides of the fenders. You can also give the car a coat of wax.
If you are planning to store your car for more than 30 days, you should change the oil. Contaminants in oil could damage the engine. You should also fill the gas tank to prevent moisture from accumulating and the seals from drying out. You can use a fuel stabilizer to prevent ethanol from building up and protect the engine from gum, varnish, and rust.
If possible, you or someone else should start the car and drive it for 15 minutes every two weeks. This will keep the battery charged and keep the engine components lubricated. You should also run the air conditioner to keep it working and maintain the air quality. If it is not possible to have someone start the car, you can disconnect the negative battery cable or use a battery tender, or trickle charger, that hooks up to your battery and plugs into an outlet. This will provide enough energy to prevent the battery from losing its charge.
When placing a car in long-term storage, you should not use the parking brake. If the brake pads are in contact with the rotors for too long, they could fuse. You can use a tire stopper, or chock, to keep the car from moving.
If a vehicle is parked in storage for a long time, the tires can develop flat spots. This can happen faster in cold temperatures or in vehicles with performance tires or low-profile tires. Having someone drive the car periodically can help to prevent this. If you plan to keep your car in storage for more than 30 days, you can remove the wheels and place the car on jack stands to prevent damage to the tires.
You will also need to protect your car from any animals that may enter your garage or carport. Cover gaps, such as the exhaust pipe or air intake, with steel wool. Spread moth balls or cotton swabs dipped in peppermint oil around the car to keep mice away.
Keeping your car in long-term storage can protect it from the elements so that you can enjoy it when you come home or the weather changes. Taking a few simple steps now can ensure that your car will be in top shape when you are ready to take it back out onto the road.