How to Store Crops in an Agricultural Building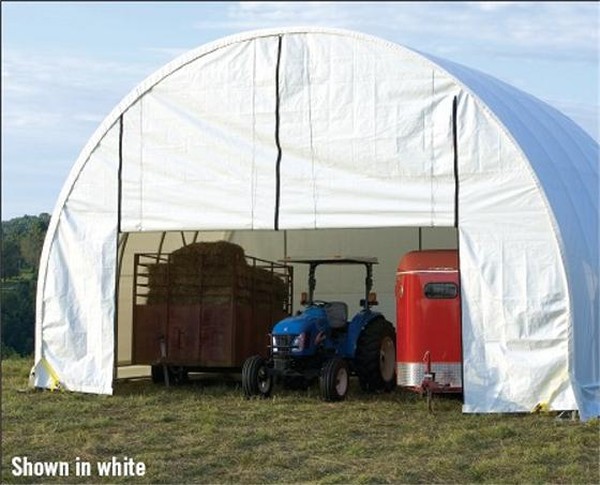 When the average individual thinks of a farm, he or she automatically pictures red wooden barns, metal silos, and horse stables. All of these structures, however, take time to construct, are expensive to build, and involve significant maintenance. If you're looking to give your farm the same features and cut down on maintenance and cost at the same time, look at an assortment of portable agricultural buildings.
Call Us Toll Free @ 800.984.7657
Portable agriculture buildings can efficiently store crops, farm equipment, cattle, and livestock. They provide the same protective features of wood construction and offer time-saving convenience and cost savings. Portable agricultural buildings are available in styles similar to wood construction with peak and round barn options in various sizes that provide valuable agricultural storage with minimal expense.
Portable agricultural buildings are sturdy and durable and provide protection from high wind, heavy rain, accumulated snowfall, and solar rays that can do irreparable damage to seed, plants, and other agricultural stocks. Crops can be stored safely, and farm equipment can be protected from rust and rot. Animal feed and hay can be kept fresh and dry. All of your crops and farm equipment can be protected from exposure to the elements.
Portable agricultural buildings are constructed of heavy-duty structural steel with durable polyethylene covers designed to hold up to long-term weather exposure. The steel frame is powder-coated to provide additional protection against the elements, and the polyethylene blocks out UV rays and water without locking moisture inside. Once anchored into the ground, a portable agricultural building offers the right amount of strength against the elements and seasonal changes.
Different heights, widths, depths, peak styles, and colors can be chosen to meet the needs of different agricultural applications. With portable agricultural buildings, you'll gain valuable storage for a fraction of the price of wood construction barns. Portable agricultural buildings are available in a wide range of colors, including green, gray, tan, and white to provide a durable cover for your agricultural products. The covers are waterproof and triple-laminated for long lasting protection.
These portable buildings are easy to assemble, set up, and take down.
Look online for companies that offer a variety of portable agricultural buildings at affordable prices that help you get the most out of your crops and farm equipment. A wide selection is available that protects everything from crops to livestock and seed. You can also keep farm animals, including horses, livestock, sheep, and cows, in portable agricultural buildings.