How to Store a Boat for the Winter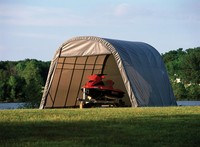 It's time to pull the boat out of the water and store it away for its first winter. Not sure what steps should be taken in order to get it ready for a long, cold winter? Well then, there's nothing to worry about. Getting a boat ready for the winter isn't difficult; it just takes some time. Follow these simple steps to winterizing a boat to ensure your vessel makes it through the winter.
Call Us Toll Free @ 800.984.7657
Owner's Manual – Before doing anything, make sure to consult the owner's manual. Some boats cannot be winterized as easily as others, and sometimes DIY winterization can void the warranty. If your boat is still under warranty, make sure to check out the section in the owner's manual about winterizing the vessel.
Damages – If your boat is damaged, take some time before winterizing to fix it. By the time spring rolls around, you'll be itching to get out onto the water, and you'll be incredibly bummed when you remember that you need to replace those cracked seats, busted radio, or sluggish bilge pump. If you fix these things now, you'll be to get back on the water when nicer weather finally rolls in.
Winterize – This is the fun part. In order to ensure that your boat will make it through the winter, first you need to make sure it is aired out. Mildew and mold can grow if you don't let the cushions, compartments, and cabins below deck air out. Trapped moisture will have a hard time escaping once your boat is sealed and stored, so make sure to give your boat a couple of days to literally dry out. After she's nice and dry, go ahead and fill her gas tanks to about 7/8 full and add a fuel stabilizer. Change the oil, replace the filters and check the coolant levels. You should also double check the belts, hoses, and clamps to make sure nothing needs to be replaced. Remember to recycle any drained fluids or oils, as they can be incredibly toxic and dangerous if not disposed correctly. Also make sure to drain all fresh water tanks and pump anti-freeze through all ice makers, air conditioning systems, fish wells, and bilge pumps to keep ice damaging lines and hoses.
Support – As your boat sits on dry land, it will need to have proper support. After the boat is properly winterized, make sure to store it on a trailer, jacks, or blocks that will give adequate support to the keel, gunnels, and motor.
Cover and Secure – Last but not least, you'll want to cover your boat to protect it from harsh weather. Most boaters like to store their vessels in a storage unit; if this is not an option, make sure to cover the boat with a tarp to keep snow and water out and then place the boat underneath a portable tent or shelter to protect it from further damages.