How to Select a Portable Motorcycle Garage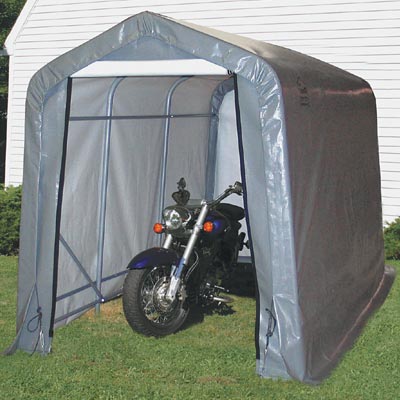 With winter snow and ice on the way, you may be looking for a safe way to store your motorcycle. A portable motorcycle garage is the way to go. There are a variety of portable garage options available, including powder-coated, valance-style, and heavy-duty steel structures.
Call Us Toll Free @ 475.308.8477
Valance and enclosed portable garages with roll-up doors provide quick access and may be best for your motorcycle, while enclosed shelters are better to keep your motorcycle sheltered on a long-term basis, if you don't want to use it again until spring.
Designed in sizes just right for small vehicles, portable motorcycle garage shelters come in peak and round styles. You don't need a large portable garage for your motorcycle. You can choose a portable motorcycle garage from six to 12 feet wide that provides the right amount of protection for your bike this winter.
If you live in the Northeast and expect lots of snow, you should select a stronger shelter that can handle heavy snow loads and resist strong winds. Your shelter should be anchored to provide the best protection for your motorcycle.
A portable motorcycle garage protects your bike from snow and rain, which can wear away the surface. Any water left after a snow or rain storm can attract mold, mildew, or dry rot, so your portable motorcycle garage will keep your bike in good condition.
Portable motorcycle shelters are lightweight and easy to transport, so you can carry one with you on a motorcycle trip. They are easy to assemble and take apart, so you can have a sturdy, durable shelter in minutes to protect against sudden winter storms.
Look online for portable shelters specialized for motorcycles. One model is a 6' x 10' x 6.5' shed with an all-steel frame and a Dupont powder-coated finish. The six-foot-wide space is just right for a motorcycle, and it can be placed anywhere on your property. The shelter also features a triple-layer mesh translucent cover with a waterproof cover that is UV-treated. It also comes with 15" augur anchors. This portable storage shed is designed to be set up quickly while remaining portable. The peaked frame endures heavy wind and snow, while the cover resists fading and aging. You can park your motorcycle inside for protection from winter weather and anchor your shed in place with stabilizing blocks, augur anchors, and steel foot plates. Portable motorcycle garages come in a range of sizes and colors, including gray, green, tan, and white.