The Equipment-Elements-Equine Equation
How to Select a Portable Barn for Your Farm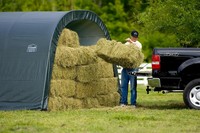 Do you need a new structure for your farm? If so, portable barns are cost effective, easy to build, maintenance free, and secure options that work just as well if not better than permanent structures. If you're interested in a portable barn, here are some tips to selecting the most appropriate barn for your purposes.
Call Us Toll Free @ 475.308.8477
What Are Your Storing? Before you can decide which size and style portable barn to purchase, you must first take into consideration what you are planning to store. If you're storing small tools, some equipment, and maybe some feed for the animals, then you can get away with a smaller portable barn. On the other hand, if you're planning on sheltering large farm equipment or other vehicles, perhaps you should opt for a taller shelter with higher clearance. Recognizing what you are sheltering will help you best decide which size and shape barn you should purchase.
Will the Structure be Permanent? Is the portable barn you are planning on purchasing going to be a permanent structure or a semi-permanent structure, or do you plan on moving it around frequently? Knowing how frequently the barn will be moved will help you decide which portable barn you should purchase. A larger, commercial-sized barn will be much harder to pack up and move than a small backyard barn. Also, soft covered barns are much easier to set up and tear down than hard-top shelters.
Will Animals Be Involved? Here's the deal: It's one thing if you're sheltering feed, hay, and farming equipment and a totally different thing if your sheltering cattle, horses, or other farm animals. If you're using a portable barn as an animal shelter, make sure you have proper ventilation, as well as multiple exits. Keep both front and rear entrances open so that you or your animals can exit in case of an emergency. If your barn doesn't have adequate ventilation, purchase a ventilation kit from your portable barn supplier. If you're using a portable barn to provide shelter to grazing animals while they're out in the field, check out specialty barns called animal shelters. Animal shelters are made with only two walls instead of four to allow animals to graze in and out. These animal shelters are great because they allow animals to get out of the wind, rain, or sun when retreating to the barn isn't an option.