How to Keep an RV Dry in Winter With a Carport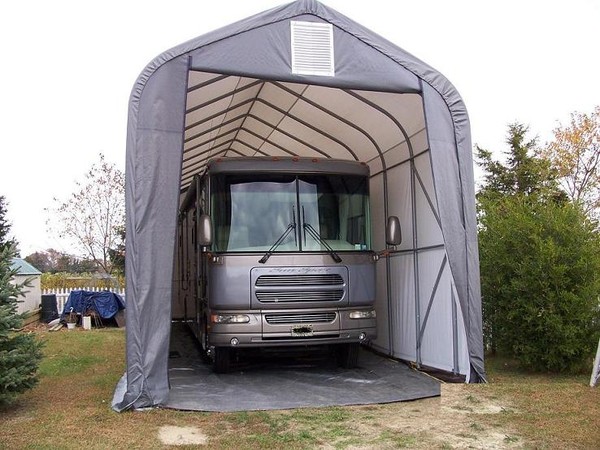 "If you want to keep your rig dry in the winter, you need to park it under a carport or garage," one RV owner said. But not every garage is tall enough and has scant interior space, so a portable carport offers an economic strategy.
Call Us Toll Free @ 475.308.8477
There are a number of RV carports you can choose to keep an RV dry in the winter. Let's take a look at a few options:
Metal RV carports feature a vertical-style roof that offers the perfect solution for protecting your RV from heavy precipitation and winter weather damage. Metal RV carports feature sturdy metal sheets that wrap around a support structure to create a roof and two partial sides. Three different roof styles are available – vertical, boxed eave, and regular, with the vertical preferred for snowy climates, because the snow slides off the roofline. Metal RV covers offer strong protection, since cloth tarpaulins can cave in or tear.
Round RV carports are 14' wide and 12' or 15' tall and feature a heavy-duty structural steel frame with a polyethylene cover. The frames provide commercial grade strength to withstand high winds, heavy rains, and accumulated snowfall. They are built to handle long-term exposure to the elements with an arched shape that allows precipitation to roll off the sides. They are ideal for keeping your RV dry and in good condition throughout the winter. The round carport covers feature 4' spacing between the ribs and rafter supports, double zipper front door entry, and an anchoring system. They are available in a variety of colors, including green, tan, gray, and white.
You can also modify your carport to prepare it for winter with side extensions that will protect possessions from damage, or with gable enclosure kits that will turn a carport into a fully enclosed shelter. A gable enclosure kits includes framing, sheet metal, screws, and vinyl trim to provide protection from winter elements.
Look online for carport kits that are perfect for do-it-yourself builders who want to save money and build a protective carport that will keep your RV dry in winter. Come spring, you'll be happy you protected your RV from the winter elements.