How Large Should Your Pop-Up Canopy Be?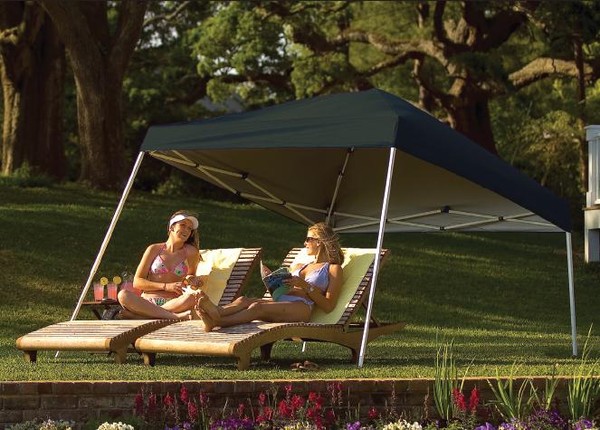 Springís the perfect time to take out the pop-up canopy, a shelter typically made out of a powder-coated steel frame and a polyester or polyethylene top. Certain shelters come in one piece Ė hence, setting it up just takes a few minutes Ė while others have a few more components.
Either way, these structures offer a quick and efficient solution for providing shade. Yet, their versatility opens them up to a range of uses: covering a table at a flea market or trade show, shade from the sun at outdoor parties, and as large tents for weddings and other big events. So, before purchasing a canopy, how large should the shelter be, based on need?
For Large Groups
Are you planning to shelter or shade a party or event? While there is no set size, the basic rule is, always offer enough space for everyone to fit under. Hereís a general guide:
Allot about 10 to 12 feet per person attending your party or event.
If thereís seating, plan for five to six feet per chair.
If youíre using tables, calculate 12 feet per person sitting at a round table, and 10 feet for every person sitting at a rectangular one.
If youíre having anything else, such as a podium or stage for events, make sure to include its square feet in your total.
For Vendors
The warmer weather often means flea and farmers markets setting up outdoors, and naturally, you want shade for your wares or produce. As well, trade shows and similar events might take advantage of the nicer temperatures, and as a result, the organizers might move it from an indoor location to one outside. So, when you have a table, items on it, and a few people to cover, make sure you arrive with a shelter thatís at least 10 ft. by 10 ft. or 15 ft. by 15 ft. at most.
Personal Usage
More stable than an umbrella and offering more shade, a pop-up canopy is ideal as shelter against the sun in your backyard or to take to the beach. If itís just yourself and a couple other people youíre looking to protect, opt for a canopy thatís about 10 ft. by 10 ft. At this size, the canopy easily folds up to be transported just about anywhere.
Looking to purchase a pop-up canopy for personal or commercial use? Browse Portable Garage Depotís selection of these temporary shelters to get the right match.