How Large Does a Portable Garage Need To Be?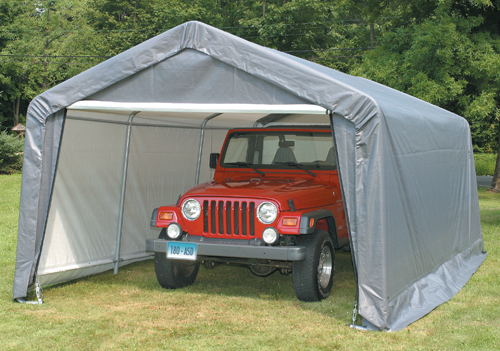 So, you've thought about purchasing a portable garage. As you've started to look around at shelters, the thought of "How large of a shelter do I need to purchase?" likely crossed your mind.
Of course, as with any purchase, the size ultimately suits whatever your plans are. For the typical carport owner, this scenario could be setting up a shelter to cover a car you use every day, to shelter a boat, RV, or motorcycle used for part of the year, to become a tool shed, or to house equipment because your garage only provides a limited amount of space.
Because of these factors, make sure you factor in the following:
Width
How wide does your portable garage need to be? Particularly for vehicles, this number comes down to the amount and type you want to store inside:
Portable garages under 18 feet wide are large enough for a single compact or standard-size car, a boat, truck, or RV. 12 feet, in this regards, is usually sufficient.
Double portable garages – 18 to 24 feet wide – have enough room for two small or mid-size cars. Should you want more room, especially for storage or using the shelter as a work shed, add at least six more feet.
Triple carports – 26 to 30 feet wide – give you that extra space or offer room for a third vehicle.
Keep in mind that, if you plan to shelter a trailer or an RV, wider tends to be better: You'll have more space to back up and don't have to risk hitting the frame.
Height and Length
Portable garages range in height from five to 12 feet. The latter figure is best for storing smaller vehicles – motorcycles and ATVs, for instance – but a typical car needs at least six to eight feet. For a truck or RV, go with the 12 feet in height and make sure you select a boxed eave roof. This peaked style gives you an additional eight inches on top of the standard 12 feet of height.
For length, determine how many vehicles you want to store back to back, or if you'd prefer your shelter to be long rather than wide. In this case, draw up a floor plan to decide how to make use of the potential space. Then, as you shop around, realize that typical portable garages go up to 21 or 31 feet in length, with models offered in five-foot increments.
To select that perfect size, browse through Portable Garage Depot's selection of lengths, widths, heights, and shapes.