5 Summer Storage Tips for Using Your Portable Garage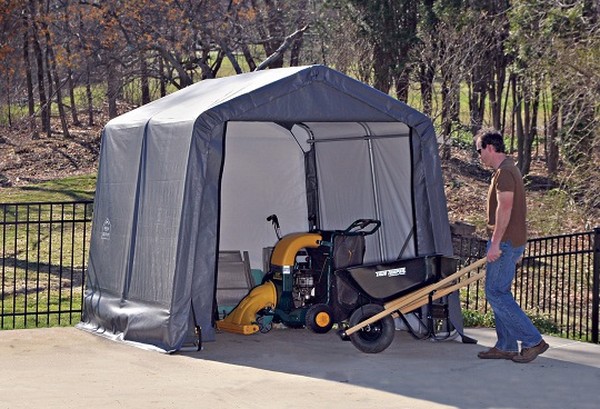 When the temperatures begin to warm up, you start to think about what you can do with your portable garage. You might have a vehicle inside, but if you picked a building specifically for versatile, ever-changing storage, you might want to keep the following five tips in mind this time of year:
1. Use Shelves to Keep Items Off the Ground
You donít want moisture and dirt damaging your supplies and equipment, and you want to further prevent pest infestations. The quickest way to avoiding these situations is adding a quality set of shelves inside, be it to house pool supplies, paint, tools, smaller equipment, and other odds and ends.
2. Create a Designated Activity Area
Understand how much space your shelter offers, and know how to use it. In doing so, make sure to allot part to your car, another section to supplies, and a third to doing projects.
What should you have here? When planning for square feet, be sure to save enough for a workbench and a pegboard, and further account for any power sources youíll need.
3. Add a Rug or Floor Cover
This facet is more for practicality rather than decoration. As you use the shelter as a long-term storage solution, make sure you have a plan for tracking dirt inside. This could be adding a cover to the floor if youíre placing the shelter over a grassy area, or if you have it over concrete or asphalt, set up a rug near the entry point, so youíre not bringing in dirt and other debris.
4. Clean Up the Clutter
Spring cleaning might have taken care of this step, but maintaining your shelter is a long-term endeavor, especially if you use it for projects and general storage. Donít have the interior turn into a disorganized mess. Rather, make a concerted effort to keep its contents in order, and to only store what needs to be there. Otherwise, if itís taking up room without being used, you can toss or donate the item.
5. Have a Plan to Avoid Pest Infestations
Pests end up in portable garages for one reason: Theyíre looking for shelter. Unfortunately, that goal takes many forms, with rodents and insects making homes in cars and boxes. So, as a plan, avoid storing firewood inside, regularly inspect your vehicle and storage compartments, and, as mentioned above, keep your tools and other supplies off the ground.
Havenít found a storage solution yet? Browse multiple types of storage shelters through Portable Garage Depot today to find the best match.