Fall Storage and a Portable Shelter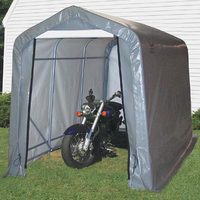 Fall is a time of transition for many farms and agricultural businesses. Itís a time of year when shelter options are at a premium.
Portable shelters and garages are still a great option for fall storage. Think about all the items and machinery that will need to be safely secured and stored before winter arrives.
Weíre talking about things like lawnmowers, tractors, patio furniture and gardening equipment. Thatís to say nothing of seasonal vehicles like motorcycles, campers and boats.
Call Us Toll Free @ 475.308.8477
Certainly these are costly items. Proper protection prolongs their effectiveness and shelf life.
This is the time to think about portable garages and shelters. They are designed for storage and protection. Think of a portable garage or shelter as an investment. They are cost-effective without being costly.
The reliability of a good portable garage or shelter begins with the construction process. Reliable portable garages and shelters will feature heavy duty structural steel frames, either galvanized steel or powder-coated steel. The polyethylene covers offer perfect protection from all kinds of weather.
Remember, certain machine or vehicles will need to be prepared for long-term storage. This means everything from push lawnmowers to large boats. The right preparation allows for a more secure storage process and will give you greater piece of mind heading into the fall and winter.