Eight Tips for Setting Up a Carport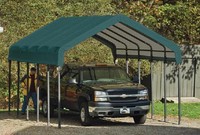 If you're planning to purchase a carport, there are few things you should know about setting it up. It's not extremely difficult but demands careful attention, so please take advantage of these useful tips for setting up a carport:
Call Us Toll Free @ 475.308.8477
Location – Where you are going to install your carport is the first thing to determine. You want it near the house but not too close, because if there is ever a car fire, you don't want flames from the carport endangering your house. If your area is prone to lightning and thunderstorms, don't set it up next to a tall tree. Find a convenient location that allows you to park easily and safely.
Size – Carports are available in single, double, and triple sizes, so determine the size based on the number of cars you want to park and the size of your driveway.
State and local regulations – Check them out in case building permits are necessary to put up carports and where they may be placed.
Install a certified carport – Choosing a certified carport ensures a safe and durable structure that withstands heavy wind, rain, and snow.
Materials – Metal carports are preferable to wood or any other material. You can choose between steel and aluminum, which are strong and don't rust or corrode.
Roof – If you live in an area with heavy snowfall, make sure the carport roof is strong enough to hold a heavy snow load. The roof style can be gabled, single slope, or flat.
Anchoring system – If your carport doesn't come with its own anchoring system, purchase it separately. You need different anchors if you're placing your carport on grass or asphalt, so make sure you purchase the right anchoring system.
Get help – It's best to work in teams to get the job done faster and safer. Setting up a carport is easier if you have a helping hand.
Look online for carport distributors that offer a wide range of products at the best prices with efficient installation support. The best sites offer an array of portable carport building kits that provide all-weather storage protection for cars, trucks, RVs, campers, boats, and more. The carports come in a variety of colors made from durable layered polyethylene with a rip-stop material for long lasting cover durability. They also offer a variety of surface anchors to accommodate all surface applications. They offer a variety of carport sizes at the lowest prices that can be shipped nationwide. Simply call them toll-free for more information.