Cleaning Your Portable Greenhouse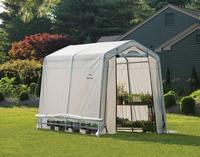 For folks who truly have a green thumb, a portable greenhouse is a great investment.
A portable greenhouse means being able to protect your flowers, plants, and trees without committing to a permanent structure.
Call Us Toll Free @ 800.984.7657
Keeping Clean
It's very important to keep a clean portable greenhouse. A greenhouse, even a portable one, can be a breeding ground for germs and bacteria.
This means keeping clean items in the greenhouse. Keep the floors and pots clean.
It's good to give your greenhouse a good cleaning at least once a year. Start by removing all plants if possible for the few hours you will need to clean the greenhouse.
Brush or vacuum the floor to remove all excess dirt and debris.
Clean the structural parts of the portable greenhouse with a mild detergent or disinfectant. If you have questions about the best cleaners for your portable greenhouse, check with your local garden supply store or home improve center.
Check to see if any weeds are growing through the floor. Remove any such weeds.
If possible, use a high-pressure washer with soap and water to remove caked-on dirt on the walls.
Keep an eye out for algae. This can grow on benches, pots and coverings.