Choosing a Replacement Canopy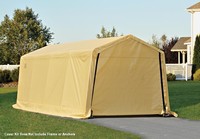 An outdoor canopy can be used for many different types of sheltering needs. An instant pop-up canopy can be just the ticket for use as an awning, party tent, a cover for outdoor recreational activity, a storm shelter, or a portable carport.
Yet, sometimes things go awry. Maybe the canopy you purchased wasn't as durable as you had hoped. Sometimes, such canopies will rip. It happens.
Call Us Toll Free @ 475.308.8477
Don't despair. Portable Garage Depot is well-stacked with replacement canopies and covers. Portable Garage Depot also offers variety in canopies and covers. There are canopies in various sizes and colors. These canopies feature water-repellent polyester fabric. They are treated to resist things like mildew and UV rays. This means better protection for the canopy and for the things being sheltered by the canopy. The tarps are solid and clamp to any table or solid surface.
Don't be afraid to be versatile with your replacement canopy. These canopies are sturdy enough to be used for things like outdoor camping. Some models come with screen inserts that can keep out pesky insects and pests like mosquitoes.
Portable Garage Depot can also help with replacement covers for portable carports. There are polyethylene covers designed for both round and peak-shaped covers. There are covers to fit all of your shelter needs. All replacement covers attach to the frame to provide excellent protection from weather and harmful UV rays. The covers also allow for air circulation and helps prevent damaging mildew and dry rot.
Choose the replacement canopy or cover that best fits your needs.