Accessories for a Portable Garage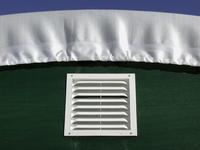 A portable garage can be an outstanding addition for a home or farm in need of extra storage. It's great for storing a boat or a tractor in the winter. Maybe it's the perfect solution for just storing a vintage car.
And why not? There is no reason to worry about weather damage. That's because all the custom portable garages and garage frames available at portable garage depot are made of either powder-coated or galvanized steel (depending on the model you choose). And those portable buildings come with garage covers made of layered polyethylene, material that contains a rip stop material for long-lasting cover durability.
Call Us Toll Free @ 800.984.7657
So what about accessories? What can you add to your portable garage to make it even better? It depends on what you need.
You can choose from a huge selection of anchors and accessories that will help you get the most out of your portable garage or storage building.
If you are going to be working for an extended period of time inside the portable garage, or if you are going to use the shelter to store livestock, strongly consider a ventilation kit. These kits install in the back and front panels of the shelter and provide a steady flow of air. This helps reduce humidity levels.
Anchor kits include driving rods, anchors, cables and clamps to secure the shelter to level ground.
Portable Garage Depot also features door roll-up kits, zip-up kits, hook anchor sets and joiner kits. These accessories allow you to customize your portable garage to fit your specific needs.