A Great Choice for Motorcycle Storage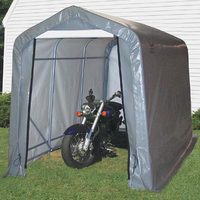 For most motorcycle enthusiasts, enjoying time on the open road is a seasonal activity. When winter rolls around, it's time to think about where to store that motorcycle to protect it from harsh weather.
Call Us Toll Free @ 475.308.8477
Things can quickly get cramped in the garage. If you don't have the most spacious of garages, space can be at premium. And if you don't have a garage at all, you may be looking at rental space as a storage option.
Keeping the motorcycle outside all winter is not a wise choice. The elements are not friends of the motorcycle. Snow and ice is bad enough. Wind, rain and sun can also all cause damage to a motorcycle.
Why not invest in a portable shelter? Portable garages and shelters can protect all sizes and models of motorcycles, from dirt bikes to street bikes to racing bikes. Choose a portable shelter that is constructed with a heavy-duty structural steel (galvanized or powder-coated) and a waterproof cover. Portable Garage Depot offers these types of portable garages and shelters, with a wide variety of sizes and pricing options. The covers to these portable shelters are made with triple-laminated polyethylene. Portable Garage Depot also offers models with double-zipper front and rear doors with an anchoring system. This allows for easy access to the motorcycle while still protecting it from all types of weather conditions.
If you are serious about keeping your motorcycle in tip-top shape, consider the advantages of a portable garage. Find the size and pricing option that is best for your needs.