5 Tips for Cleaning a Portable Garage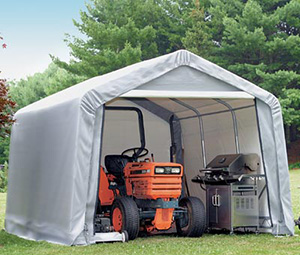 The garage, whether portable or a brick-and-mortar structure, is one of the most overlooked areas in the home. As a result, family members stash away various items, from seasonal vehicles to tools and holiday decorations, and debris, including dirt, leaves, and oil, accumulates inside. In response, it's always a good idea to clean out the space once or twice per year.
Call Us Toll Free @ 475.308.8477
1. Go Through Everything Stored
Your portable garage, particularly if it's on the larger side, ends up as the go-to storage solution for everything that won't fit inside the house. Over time, items you intend to throw away or that you no longer use take up space, and a good deal of its interior goes toward housing items that could be tossed or donated.
So, whether now or as part of a spring cleaning plan, take all items out, sort through them, and determine what needs to go. If it's completely unusable, it can likely go in the garbage. Or, if it's in good condition but no longer used, set it aside to be donated or sold at a garage sale.
2. Hose Down the Shelter
Now that the portable garage is completely empty, take a garden hose and wash down both the interior and exterior. If it looks particularly dirty, consider getting a soap and sponge, and using some elbow grease to scrub off any stubborn dirt and oil.
3. Clean Off Your Equipment
If you have a boat, mower, or a small tractor regularly stored inside, also take this opportunity to clean off any equipment or vehicles. Like your shelter, these, too, rarely get addressed for cleanliness, with the exception of winterization and spring preparation.
4. Organize Your Supplies
After everything kept inside has been cleaned, decide how you're going to reorganize it inside the shelter. Ideally, smaller items should be kept in bins or on shelves, so that you can economically divide up the square feet available for the floor.
5. Repair the Canopy
Especially if your portable garage is older, the canopy could be experiencing a high amount of wear and tear, considering it's in direct contact with the elements. As the polyethylene material doesn't have as great of a lifespan as the steel frame, the canopy typically gives you five years of use. So, in cleaning your portable garage, inspect the canopy thoroughly for tears, punctures, and fraying. If you notice any of these issues, repair the material with a patch kit.
Whether you need a full shelter, repair parts, and patch kits, find what you need through our large selection of portable garage supplies. Browse today by shelter type and accessory to find what you need.