4 Tips for Checking a Seasonal Vehicle Stored Inside a Portable Garage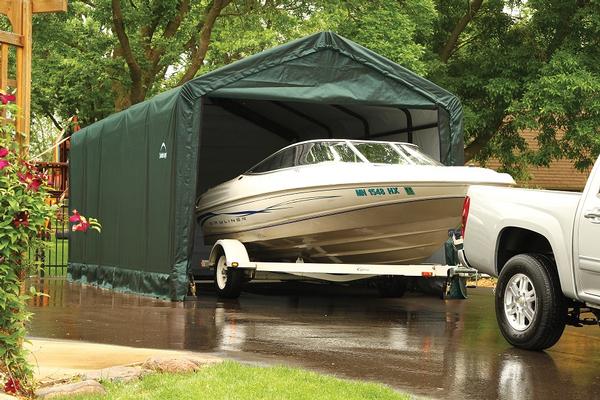 You prepare your boat, motorcycle, RV, or ATV for the season, making sure to drain any water, change fluids, and keep the battery charging, depending upon its maintenance needs. Then, as a protective measure to prevent UV rays and precipitation from damaging its internal parts and marring its exterior appearance, you store it inside a fully enclosed portable garage, which blocks out the sun, prevents snow from entering, but allows any moisture inside to escape to avoid mold or mildew buildup.
But, once it's inside, what then? Make a plan to periodically check on your vehicle:
1. Schedule Multiple Times Per Season
Depending upon what you ride, you could be putting your vehicle away as early as fall. Motorcycle and boat usage often stops after Labor Day, while RVs often remain in rotation for weekend camping trips until the snow falls on the ground.
So, whenever you decide to weatherize your vehicle, consider how often you'll check it before spring arrives. While there's no exact number you should aim for, consider popping in at least once each month to note the quality of the vehicle and to check out the shelter.
2. Check the Door Seal
Many, for complete protection, opt to use an electric or roll-up door in front. Such options prove to be convenient, but realize this: The seal at the bottom can wear away, letting the elements in even when it's completely down. As you check the shelter, first notice this area of the door, and make plans to repair it if it's damaged.
3. Use a Light Source
This step might seem like a no-brainer, but doing a once-over of your vehicle becomes counterproductive if you can't actually see much. So, if your shelter's equipped with a light, turn it on. If not, bring in a flashlight, preferably one that can be set down and still give off a clear beam.
4. Be Strategic
During these checks, you've got to know what to look for. That often includes:
Any possible mold or mildew damage to your vehicle.
Tears in the shelter's canopy.
Insects in the shelter's darker, damp areas.
Rodents that have made a home inside your vehicle
Any leaks coming from your vehicle onto the ground.
If you have yet to purchase a shelter for your vehicle, browse our store for a range of sizes – portable garages just big enough for a single motorcycle or ATV or large enough to hold an RV and then some. Shop today for a precise fit and shape suited to your investment.