Canopies Carports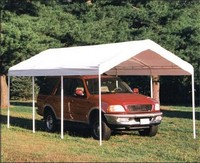 How many ways can you use canopies and carports? As versatile structures, canopies and carports can be used in several ways to shelter investments. Carports and canopies are made out of powder-coated or galvanized steel frames and a polyethylene tarp. Anchored into the ground, the steel frame is powerful enough to hold up to high winds and heavy snow without collapsing. The polyethylene also protects the vehicle. Blocking out UV rays and rain, polyethylene is treated to be UV resistant, waterproof, mildew resistant, and rot proof. Additionally, carports and canopies do not lock moisture inside, preventing mold, mildew, and dry rot buildup.
Call Us Toll Free @ 475.308.8477
Carports and canopies have an enclosed or valance style. For the former, these carports and canopies have an open frame and the tarp on top, extending slightly down two sides. This design allows vehicles to easily pass in and out. Enclosed canopies, with a peaked or rounded frame, offer full protection on all sides and are ideal for storing seasonal vehicles.
In addition to storing vehicles, canopies are often found on farms for storing equipment and animals. Farm equipment may only be used for part of the year, and an enclosed canopy fully protects it when not in use. Horses, similarly, need shelter from the elements outdoors, and these canopies are commonly called "run-in sheds" or "portable horse shelters." Open on two sides, run-in sheds provide shade to horses and other livestock in an open area.
Carports and canopies can also become portable greenhouses. With a translucent tarp, an enclosed canopy provides the right conditions for plants. Nearly fully closed off, an enclosed canopy with a heater inside lets you grow any type of potted plants all year round.
Canopies and carports, however, are not only personal shelters. Larger vehicles, such as trucks, need to same protection as cars, and valance and enclosed canopies are built to shelter more than one large vehicle in commercial or industrial settings.